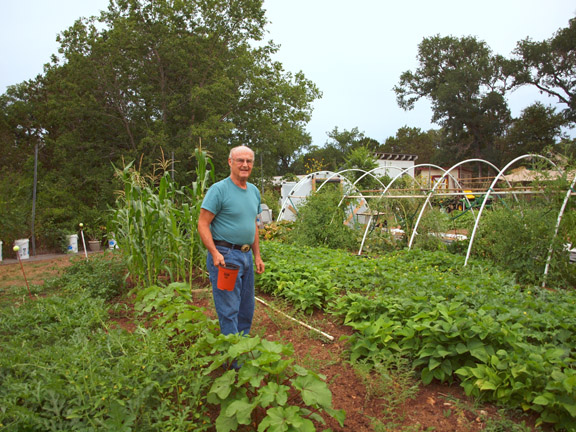 My dad using his ability to garden for the benefit of our family.
If someone were to ask you what was the single most important thing that your dad taught you it might be hard to answer.  For some it would be because of sad reasons.  For myself and my siblings, we might find it difficult to narrow it down to one thing primarily because we have a teaching dad.  Of course, the Gospel would be an obvious "single most important thing".  But, an even broader statement might be to say that he taught us to believe God and take Him at His word.  If you don't do that the Gospel itself is meaningless. 
However, in thinking about this poem today, another item that comes very high on my list is the fact that our dad always taught us that our Christianity is not a selfish thing.  He taught us that we were not blessed with salvation, understanding of God's word, talents, abilities and even possessions for our own selfish pleasure – to heap upon ourselves.  He taught us that the Lord intended us to pass these things on, to teach others, to share, to give.   He also taught us that our hardships and trials are not ours alone, that we should pass on the knowledge and help and comfort that God gives us in these things and use them to minister to others (2 Corinthians 1:4).  He has worked to be an example of this as well, which is perhaps what made it take root in us most effectively.
I thank God for a father who taught us these important things.
---------------------------------
"Give Ye Them to Eat"
Christ might have turned the stone to bread,
Who once had made the water wine,
Or called the manna down from heaven
To show His power divine,
But, "Give ye them to eat," He said,
And took His servants' little store;
Though scarce enough for one it seemed,
He blessed and made it more.
And so He let them share with Him
His joy, His work of feeding men,
And all they gave Him He returned
A thousand-fold again.
Here in the wilderness today
The starving nations wait for bread;
And still He saith, "Give ye to them
And let the world be fed."
What matter though our loaves be few?
Alike the little and the much
When He shall add to what we have
His multiplying touch.
Bring Him thy bread, though scant it seem,
To satisfy thy daily need;
When He shall take, and bless, and break,
The hungering world may feed.
[Altered]
Matthew 14:16-21 But Jesus said unto them, They need not depart; give ye them to eat. And they say unto him, We have here but five loaves, and two fishes. He said, Bring them hither to me. And he commanded the multitude to sit down on the grass, and took the five loaves, and the two fishes, and looking up to heaven, he blessed, and brake, and gave the loaves to his disciples, and the disciples to the multitude. And they did all eat, and were filled: and they took up of the fragments that remained twelve baskets full. And they that had eaten were about five thousand men, beside women and children.
John 21:16 He saith to him again the second time, Simon, son of Jonas, lovest thou me? He saith unto him, Yea, Lord; thou knowest that I love thee. He saith unto him, Feed my sheep.