[Originally published, 7/2012; Edited, Dec. 2017.]
Proverbs 24:10 If thou faint in the day of adversity, thy strength is small.
Deuteronomy 33:27 The eternal God is thy refuge, and underneath are the everlasting arms…
Last Sunday evening a thunder shower started during the church meeting and kept on for a long time. It was still going when we were leaving the building to head home. My friend Michelle and her littlest girl, Lucy, were going out the door at the same time I was. Another lady – a guest – was trying to help some with Lucy as she was starting to cry. Lucy started howling even more, and, assuming that it was partly because this lady was a stranger to her, I stepped in and picked Lucy up to carry her out. Well, she continued to cry and then began to writhe as toddlers will sometimes when they want to be put down. So, I put her down. To my consternation, she almost promptly fell over onto the cement. She was acting like she couldn't function. I tried to lift her onto her feet, but she wouldn't use her legs, she just kept them bent.
All this time her mom, whose arms were full was saying encouraging things, but Lucy paid no attention to her. Eventually, when I was trying to hold her up and she was refusing to stand, her dad saw what was happening came out to assist, saying he would get her. I didn't dare let go of her till he had her in his hands because she would have fallen backwards and hit her head on the cement.
She continued to cry as her dad paused to talk a minute, explaining to me that she was scared of the thunder. Still, she would put her head down on her dad's shoulder and let him comfort her a bit, but when the thunder crashed again (and it wasn't really loud thunder), she would howl and writhe and maybe even throw herself around a bit as if she wanted to be put down. She was perfectly safe in his arms. He wasn't going to put her down – that would have only meant another fall for her as her fear was so overwhelming that she apparently forgot how to walk when it happened. But, she wouldn't be comforted, she wouldn't be assured, she would not rest in the safety of her father's arms and be at peace. As the lady who had tried to help earlier said, Lucy probably was frightened because she did not understand the storm.
Speaking to my husband later about this little by-play, it crossed my mind how we are like that at times with our heavenly Father. Something happens that we don't understand, or perhaps we are made frightened by events going on around us in the world or are fearful about the future; but rather than standing on our own two legs of faith, as it were, we begin to thrash around and stumble and become so overcome with our fear that we even fall and may injure ourselves, figuratively speaking. Fear can have very real physical effects. It can be debilitating.
Perhaps our brothers or sisters in Christ see it is necessary to come along side of us and try to help to keep us on our feet, though that is a blessing, there is only so much they can do, especially when we refuse to be helped.
Ultimately, we need to rest in the everlasting arms of our heavenly Father. Yet, how often do we thrash and howl and writhe even while the Lord is trying to bring peace and comfort to our troubled minds and hearts! How apt we are to resist the very One who is
…the Father of mercies, and the God of all comfort; 2 Corinthians 1:3
! We are so overwhelmed by our own terror that we can't realize that we are safe in the arms of God, and even more we fail to hear His word and believe it. We can't even comprehend it because we are allowing ourselves to be governed by the spirit of fear.
2 Timothy 1:7 For God hath not given us the spirit of fear; but of power, and of love, and of a sound mind.
Fear is a natural response in some situations, and it is a useful reaction to keep us from injuring ourselves, attempting foolish things, going into dangerous situations and such like. When people say that "fear is sin" in a blanket statement they are misrepresenting the thing, which is unhelpful. But, fear is also something that can be totally unfounded, irrational, or exaggerated far beyond what a situation may call for. This is why our adversary uses it to his advantage.
1 Peter 5:8 Be sober, be vigilant; because your adversary the devil, as a roaring lion, walketh about, seeking whom he may devour:
The roaring of the lion causes fear and panic in those who are candidates to be his victims. But, as Christians we are told to be sober and vigilant – not so panic stricken that we can't function properly. I know this can be very hard. As a person who deals with anxiety struggles, I know that it can be very easy to allow ourselves to be overwhelmed to the point of uncontrollable fear.
I find it interesting to note the verses just before and just after 1 Peter 5:8. First regarding the Lord, it tells us:
1 Peter 5:7 Casting all your care upon him; for he careth for you.
And, then regarding the roaring adversary it continues in
1 Peter 5:9, Whom resist stedfast in the faith…
Getting back to little Lucy, though, and her refusal to accept her father's comfort and care, another verse comes to mind.
Colossians 3:15 And let the peace of God rule in your hearts, to the which also ye are called in one body; and be ye thankful.
The key there is in the letting. God gives us a choice in this matter. Lucy's father could not make her be comforted or at peace. She had to choose that. As a toddler, this was something hard for her to do. We understand that, and I'm sure our heavenly Father understands our struggle as well since …he knoweth our frame; he remembereth that we are dust. Psalms 103:14 That is a blessing. But, I know Lucy's dad would have liked to see her accept her safety in his arms and be at rest. How much more do you think our heavenly Father would be blessed to see us rest in His infinite, all powerful, sustaining arms? How much more does He know that it is for our good to accept His admonition to let His peace rule in our hearts?
Isaiah 41:10 Fear thou not; for I am with thee: be not dismayed; for I am thy God: I will strengthen thee; yea, I will help thee; yea, I will uphold thee with the right hand of my righteousness.
John 14:27 Peace I leave with you, my peace I give unto you: not as the world giveth, give I unto you. Let not your heart be troubled, neither let it be afraid.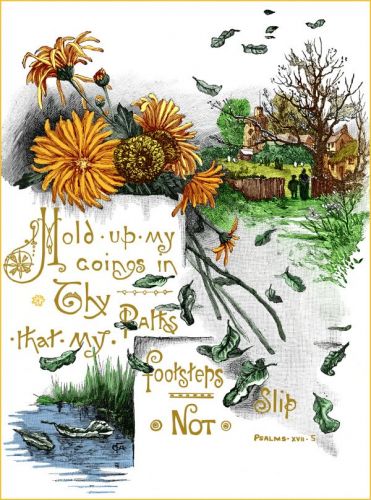 Vintage graphic: source unknown