Today being grandparents' day, this meme seemed like a good topic to address. I hope this encourages someone.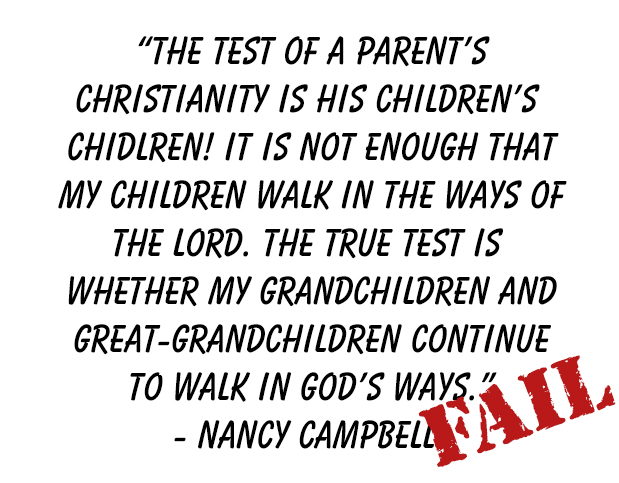 "The test of a parent's Christianity is his children's children! It is not enough that my children walk in the ways of the Lord. The true test is where my grandchildren and great-grandchildren continue to walk in God's ways." - Nancy Campbell from Above Rubies Ministry
This quote probably sounds really convicting and/or inspiring to some people. But, the truth is that it is a lie. The reason is that it is in direct contradiction to the word of God.
People like to think that if they live just right and do everything just the way their teachers tell them God likes it, their descendants will turn out to be good, godly Christians. (Notice that it's the teachers that they listen to, not God's word.) The "christian" patriarchy movement has served up this lie in various ways by teaching parents and grandparents that they are personally responsible for the future, salvation, and Christianity of their children. This is a false teaching, perhaps we should even say heresy since it can directly affect the doctrine of salvation.
What does God actually say about this specific subject?