Since last Sunday was Father's Day here in the U.S., I thought it would be interesting to share a few things written by my dad that I hope you might enjoy.
My parents attended a missionary boarding school when they were growing up in East Africa. They had a lot of experiences there that were unique to that type of environment. My dad, being of the prankster temperament, made quite a few of those unique experiences for himself. We grew up listening to these stories and we never got tired of them.
The Night the Donkey Came to Pray
- This one is a particular favorite because my mom was involved in the situation, albeit in a non-active sense.
My dad is also a poet. Among my earliest memories is him singing "The Fox" to me. It is a long poem, but he learned the whole thing, more or less, and he would sing it from start to finish for us when I would ask him to "Sing us the fox song, Daddy."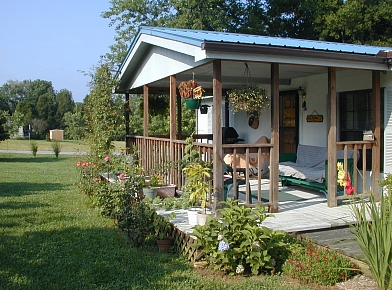 Well, my dad also sometimes writes his own poetry, and here is one of them:
Musings from My Front Porch
- My dad wrote this when we lived in Tennessee. The photo is of the very porch he was sitting on. :-) The shed and house in the distance is Charlotte's place as well.
Last but not least, my dad is a Christian. He was a missionary for a short time during my early life and later a pastor for much longer. Some years ago he wrote this study on the Gospel of John to help people know for sure if they are truly born again or not. Because of this page, my dear friend Theresa came to know the Lord Jesus Christ as her Savior after living most of her life thinking she was saved when, in fact, she was not. [
Read Theresa's story here
.] I am very thankful that the Lord used my own dad to bring her to a realization that she did not understand the Gospel and what it really meant to be born again, and that because of that she eventually came to true salvation. I hope that it has helped others and that it will continue to do so.
The Gospel of Jesus Christ