Ephesians 5:1 Be ye therefore followers of God, as dear children;
This is a critique of an article by someone within the Patriarchal Movement who claimed that fathers literally own their daughters and that, among other things, daughters do not have a right to marry without the direct supervision and approval of their fathers. This critique is very long. I'm sorry that it is, but due to the significance of this subject in the Patriarchal Movement and the boldness of the young woman whose article I've answered, it seemed like a good opportunity to deal with the issue head on. The bizarre father-daughter relationships within Patriarchy are one of it's more disturbing visible problems.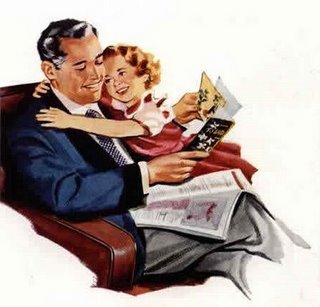 Do Fathers Own Their Daughters?
Awhile back I ran across the article "Daddy's Girl: Courtship and a Father's Rights" by Sarah Faith Schlissel (since married). This article has probably been critiqued by others before me, but since it sets forth much of the real thinking behind the father-daughter relationships taught by the Patriarchy Movement (sometimes called hyper patriarchy), I wanted to deal with it here. I realize there are many strains of so-called "Biblical Patriarchy", but from my research, what is practiced in regard to father-daughter relations appears to be very close to what this writer put down in print. If some deny it verbally, fine and well. Let us see them deny it in practice and then we will believe their claims. This article was credited to have been published by The Chalcedon Foundation (not a small thing within those circles)…